Revolustar
Revolustar is a karaoke game that questions us face to the notion of revolution. As it hacks a casual karaoke game playable on Playstation2, it introduces a directory of revolutionary songs instead of traditional pop songs. These songs whose authors are, usually unknown, offer to listeners lyrics of a rare violence. These lyrics, do not spare politics neither the dominant classes. These songs witness a past which is less and less taught to the new generations and, yet, would certainly be essential to understand the society, i.e the episode of the Commune de Paris. Revolustar is a critical work whose efficiency requires minimal parasitic gesture.
These last years, supermarkets and brands stunned pseudo-revolutionary slogans ("all against high prices", "low prices") and abused flashy graphic identities (colors, fonts). At the same time, we are seeing debates on civilization notions, identities and cultural heritage, including religious while many countries remain secular like in France. The concept of Revolution is now tarnished even if our civilisation has been built and defined in the continuity of several revolutions (political, religious and industrial). What remains then of the legacy of the Revolution – a rich cultural heritage left in disuse – if it is not to encourage us to consume everyday more en more?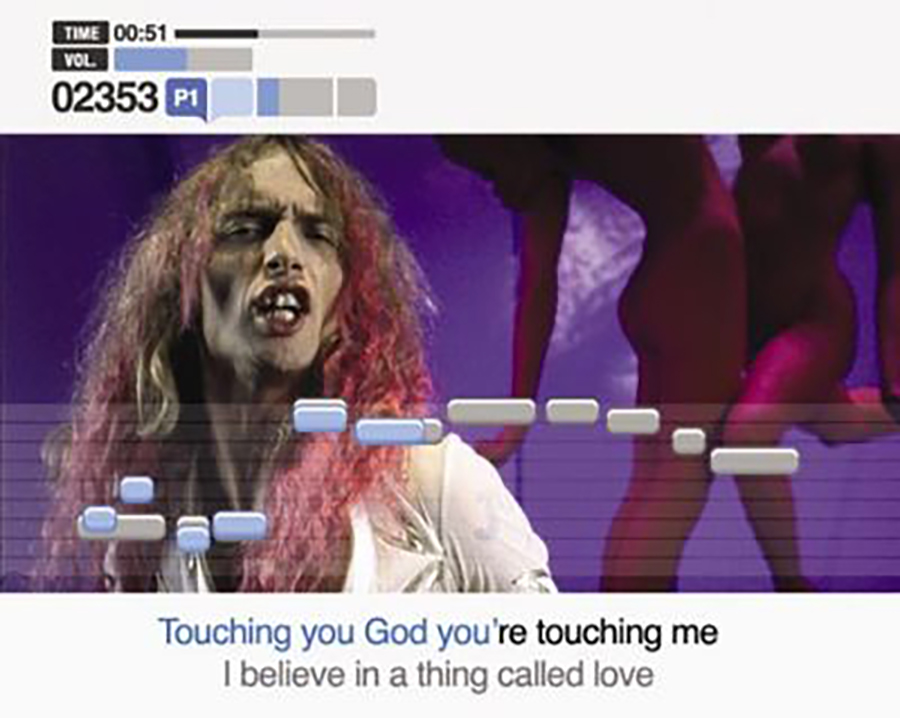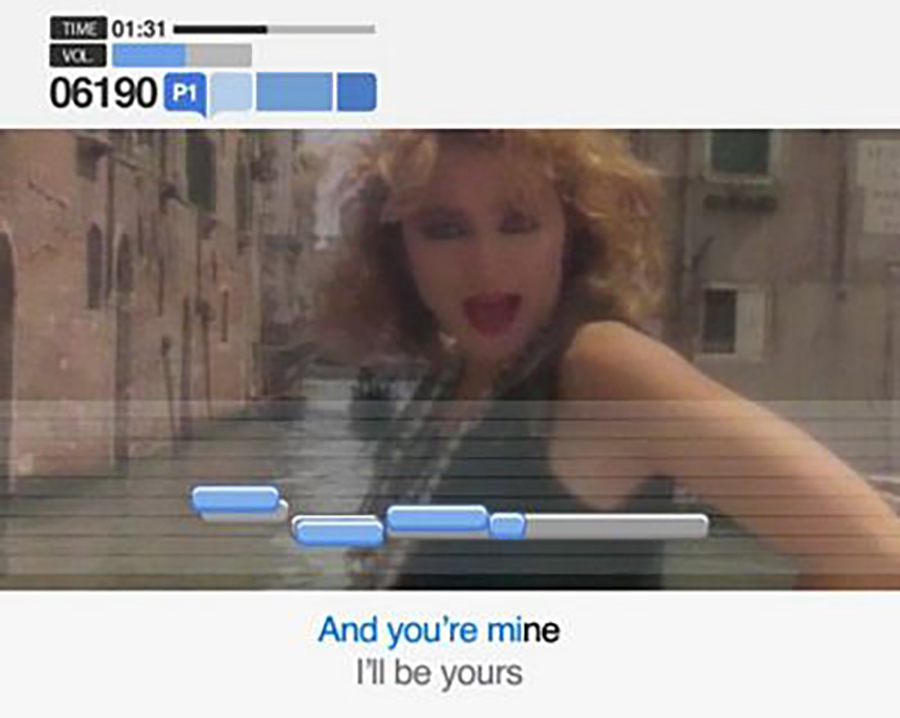 Installation. Playstation2, soundsystem, gamepad, microphone, videoprojection.
Co-producers: Kawenga-territoires numériques, AADN, Autonome Vivance.
Exhibitions: Obsolescence déprogrammée, Maison Rosa Bonheur, Chevilly Larue. MLIS, Villeurbannes. Videophonic 16, AADN, Lyon. CCO, Villeurbanne. Festival TRIG, Nîmes. Pavillon de la Colombière, Montpellier. Galerie du Lac Gelé, Nîmes."ARG", Illusion et Macadam, Montpellier. Kawenga-territoires numériques, Montpellier. Bouillants Numériques, Rennes. SKOL, BIAN, Montreal. Oudeis, château d'Assas, Le Vigan
With the support of the Occitanie Council and DRAC Occitanie.
Revolustar includes two types of transformations/hijack. The song 'detournement' and the image 'detournement' (detournement is a french word used to describe hijack, misuse, diversion). The karaoke includes revolutionary and protest songs. Now considered obsolete or folk, they are representative of a history of strong commitments and witnessed many changes that our societies have experienced.
By infiltrating the karaoke within family homes, we question the decline of the revolutionary thinking in a subversive perception. Commercial video-clips initially included in the karaoke are kept but the songs have been substituted. The irony plays between the song and image, acting here as a flagrant interference and creates a gap between what is viewed and what is meant in the songs. Imagine a Destiny Child's song depicting the singers dancing languidly on the beach and singing with these lyrics instead of the originals:
"It is a wonderful product experienced by science And that for us the destitute will bring independence All the better if he sometimes breaks out by many victims In this bourgeois enemies take revenge for their crimes
Take a pot packed with dynamite Whatever the season by the new explosion will go quickly To inspire terror because there is nothing better than dynamite
We guillotine Ravachol a buddy who had the scale Today is a Spanish be shot for his pace He in turn able to show that he was an invincible man In addition he promised that one day would be a terrible revenge
Vive la dynamite ! Each execution we will share our favorite weapon Because to sow terror there is nothing better than dynamite"
Revolustar includes an other kind of hijack. The original videoclips are substituted with footages from strikes, revolts in the street and several contexts, different times and places. The image is raw, devoid of glamor aesthetic and romantic revolutionary treatment. But the songs we hear are very popular hits, pop culture songs. Entertainment by singing going on here that contradicts the image. This interference allows us to live vicariously a very watered down version of the act of rebellion. A fantasy realized without the slightest danger.