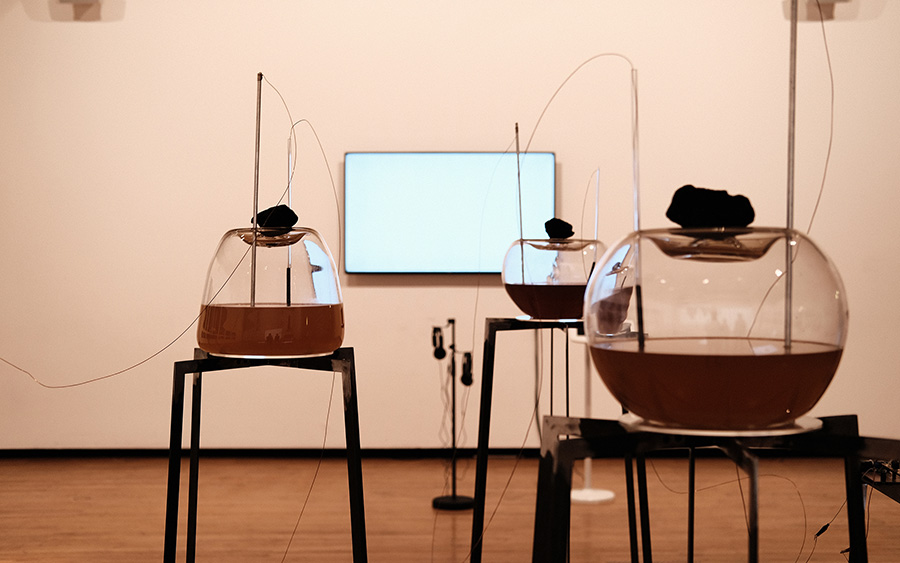 Urinotron
"Urinotron" is a project made in collaboration with Gaspard Bébié-Valérian and Dorian Reunkrilerk (researcher in design sciences) as part of the Pulsar Prize. The Urinotron consists of a micro-power station whose main material is an organic waste, familiar to everyone but really intimate, urine.
The Urinotron is an evolutionary and redesigned installation for each of its exhibition. It develops a register of shapes, variations made up of blown glass volumes, coals, copper cables, various electronics, batteries, electrodes, pedestals and urine, of course. This whole thing, assembled according to a DIY aesthetic, can be likened to a giant microbial pile. This type of battery is already the subject of advanced research and our goal is not so much to reproduce or improve the existing but rather, through a symbolic and artistic bias, to develop a critique of the technique to test the limits and create, then, a matter of judgment on the industrial and capitalist context in which research on bioenergies is inscribed.
In addition to its sculptural dimension, the Urinotron is a functional space whose purpose can be re-evaluated according to the exhibition contexts. It can be a reading space, a charging station, a mobile space, an irrigation system, etc.
Urine, blown glass containers, electrodes, urine, copper wires, charcoal, electronics, stain stands, book and lights
The project: "Urinotron" won the 2017 Pulsar Prize.
Exhibitions: Piksel festival, Bergen, november 2019. Science Gallery of Melbourne, August 2019, Louvre Pyramid, february 2018, EDF Fondation, December 2017, Station F, october 2017.