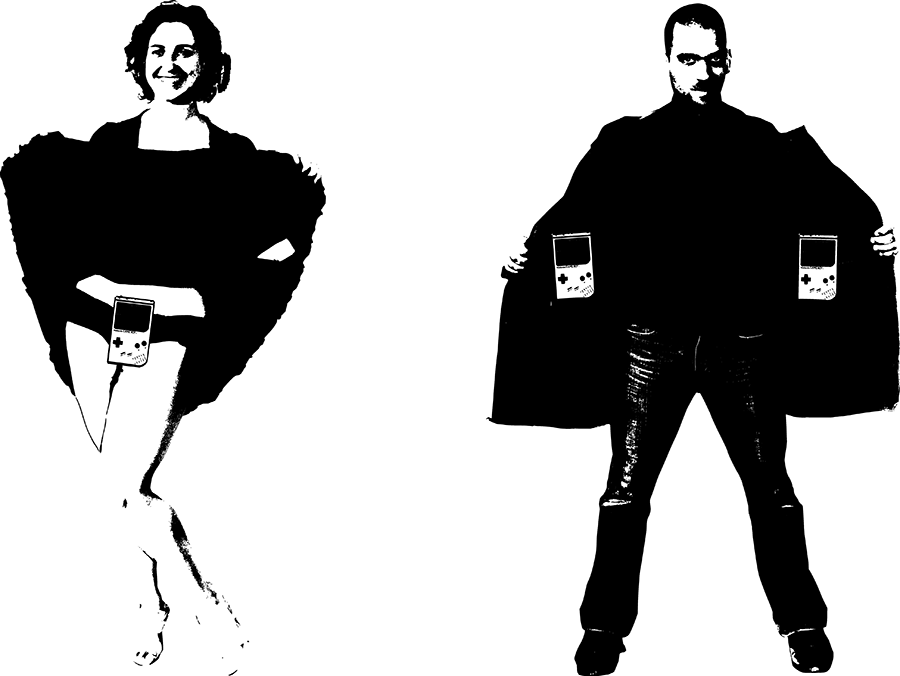 Free Gameboy
Free Gameboy is a minimalist tool of emancipation assigned to the free diffusion of information. Or, defined differently, how could we take back obsolete interface in favor of critical thinking?
In aiming to develop a deviant and contagious tool for the empowerment of knowledge, Sandra and Gaspard Bebie-Valérian seized an object of mass consumption, a precursor symbol of embedded technology, emblematic of changes during the post-industrial society: the Gameboy.
In retrospect, the Gameboy foreshadowed – already twenty years ago – our current technological functions: portability, individuality, connectivity. Nowaday, the first generation Game Boy is a mass object obsolete: a dinosaur Ipod which today does not worth much. Yet the Gameboy remains a functional object even more fun to divert as its usual value is almost zero.
The two artists have therefore developed a hack from the Gameboy, easily exploitable and diffusible as sort to make several unities available and potentially reusable in different contexts (Do It Yourself or domestic engineering). The content broadcast by these modified units is then shared in the form of interchangeable cartridges and thus enrichs the existing means of dissemination and sharing of specialized knowledge related to autonomisation. Several resources are identified and integrated into the gameboy, fact sheets, crafts of all kinds, construction techniques, mechanical, health, agriculture, phyto-purification, medicine, education but also any intellectual territory, literary, ecological, sociological, economic policy which gives an awareness of the world in its mechanisms and workings.
Free Gameboy is a free diffusion of knowledge, free from restrictions of uses, distribution, copyrights and other patents. Convey knowledge can take different methods and purposes. The case of the Free Gameboy reports of some interest because it embodies our current relationship with information, accessibility and assimilation habits, reading that join it.
In a sense, this project conducts a retrospective and prospective translation, trying to divert a banal and daily use of current technology – driven by an immediate place, either internet, hypertext and the permanent accessibility from any suitably equipped device over wifi or bluetooth – for a laborious and rare use of outdated technology supported by hardware instead, or the cartridge, the constraint of unique content to each, its materiality and simplicity. By reactivating the waste, Sandra and Gaspard strive to create an economy, itself altered. Moreover, the object appears in a shift. Free Gameboy is a tool, a vehicle, a discreet and insignificant circulation channel. He takes to his advantage the concepts of portability, exchange and circulation. Like the bookcrossing practices, verbal jousting or outdoor sessions of the Free University, Free Gameboy relocates the place of knowledge and accessibility.
Installation.
Gameboys and modified cartridges.
« Actions directes – mode d'emploi » (Les Pokemons activistes, 2001)
« Appel pour l'action directe » (Zanzara Athée)
« Manuel de sabotage, par la CIA » (Éditions Clandestines)
« Manifeste du sabotage en entreprises » (Spank the Bank & Sabotage à tous les Étages)
« Petit guide pratique pour défier les forces de l'ordre : Tactiques et système d'autodéfense pour le manifestant moderne, résistance à la violence policière » (Sarin)
« L'art et la science du détournement publicitaire. » (Bilboard Liberation Front)
« Comment blanchir l'argent sale, manuel pratique pour crapules modernes et citoyens naïfs » (les Renseignements Généreux)
« La guerre civilisée, La défense par actions civiles » (Gene Sharp, traduction Bernard Lazarevhitch)
« L'abolition de la guerre, un but réaliste » (Gene Sharp, traduit par Traducteurs sans frontières)
« Gaz CS, comment en combattre les effets » (indymedia Nantes)
« Contre le fichage ADN » « Face à la police/ face à la justice » (Elie Escondida & Dante Timelos)
« Guide des violences policières » (Ligue des Droits de l'Homme)
« Kit­Keuf » (RAIDH, Réseau d'Alerte et d'Intervention pour les Droits de l'Homme)
« Que faire lorsqu'on est arrêté par la police lors d'une manifestation » (Syndicat de la magistrature)
« Pense bête juridique, manif/actions contre­sommet de l'OTAN 2009 » (Legal Team Strasbourg)
« Non, c'est non. Petit manuel d'autodéfense à l'usage de toutes les femmes qui en ont marre de sefaire emmerder sans rien dire. » (Irene Zeilinger)
« La java du code barre » (Catherine Bourgain)
« La randonnée, un art de vivre » (Indymedia Nantes)
« Le Squat de A à Z » (Collectif)

« Informatique, sabotage, contre­pouvoir » (Hannibal Lecter)
« La résistance électronique et autres idées impopulaires » (Critical Art Ensemble)
« Machine Chair » (Critical Art Ensemble)
« L'Invasion Moléculaire » (Critical Art Ensemble)
« Le sabotage artistique » (Hakim Bey)
« Le terrorisme poétique » (Hakim Bey)
« Guerrilla Gardening » « Allotments and guerrilla farming » (Graham Burnett)
« Atelier Jogging d'Action » (Fondation Babybrul)
« Nous autres » (Yevgueni Ziamatine)
« Culture Libre » (Laurence Lessig)

« Un autre monde est possible. Energie, matières premières, informations autonomisantes » (C.J.L. Energie)
« Le Pain » (Ekopedia)
« Les yaourts » (Ekopedia)
« Friteuse magazine, spécial filtration, 3 recettes faciles » (les ateliers permanents)
« Produire son biogaz, réalisation d'un biodigesteur de démonstration. » (onpeutlefaire.com)
« Calendrier du potager »
« La Permaculture » (Masanobu Fukuoka, Newlimits)
« À la recherche du jardin propre : l'agriculture synergétique » (Patrick Bletsas, Olivier Barbié)
« Permaculture » (Bill Mollison)
« Le Bois Raméal Fragmenté » (Ekopedia)
« Compostage » (Ekopedia)
« La conservation des aliments » (Ekopedia)
« La lactofermentation » (Ekopedia)
« Les laits végétaux » (Ekopedia)
« Les graines germées » (Eric Viard)
« Comment traiter l'eau ? » (onpeutlefaire.com)
« La toilette sèche » (Ekopedia)
« Dôme géodésique, sur le modèle de No Border » (Boîte à Outils Éditions)
« Street Medics, manuel pour un peu plus d'autonomie face aux premiers secours » (Joviale et Peter Benton)
« Les illusions du progrès technique, la course au high tech, ses conséquences et ses alternatives » ( Les Renseignements Généreux)
« Créer en SCOP, le guide de l'entreprise participative » (le Réseau des entrepreneurs participatifs)
« La Société Coopérative d'Intérêt Collectif »
« Qu'est-­ce que le S.E.L. » (selidaire.org)